GET $5 OFF YOUR NEXT MONTH OF RECYCLING! 
both you and your neighbor can earn $5 off your Next month of our service.
Learn More Below: 
Special promotion for Existing Customers!
We want to give you a chance to earn $5 OFF YOUR NEXT MONTH of recycling with Recyclops when you REFER A FRIEND to sign up!
How to get $5 off you next month:
New users (users who have never had a Recyclops subscription before) who you refer will need to sign up for Recycling using the promo-code "WERECYCLE".
Step 1 – Sign up for Recyclops

Step 2 – Follow the steps below to make sure you enter the FULL NAME of the Recyclops customer who referred you in the "Referral Program" tab.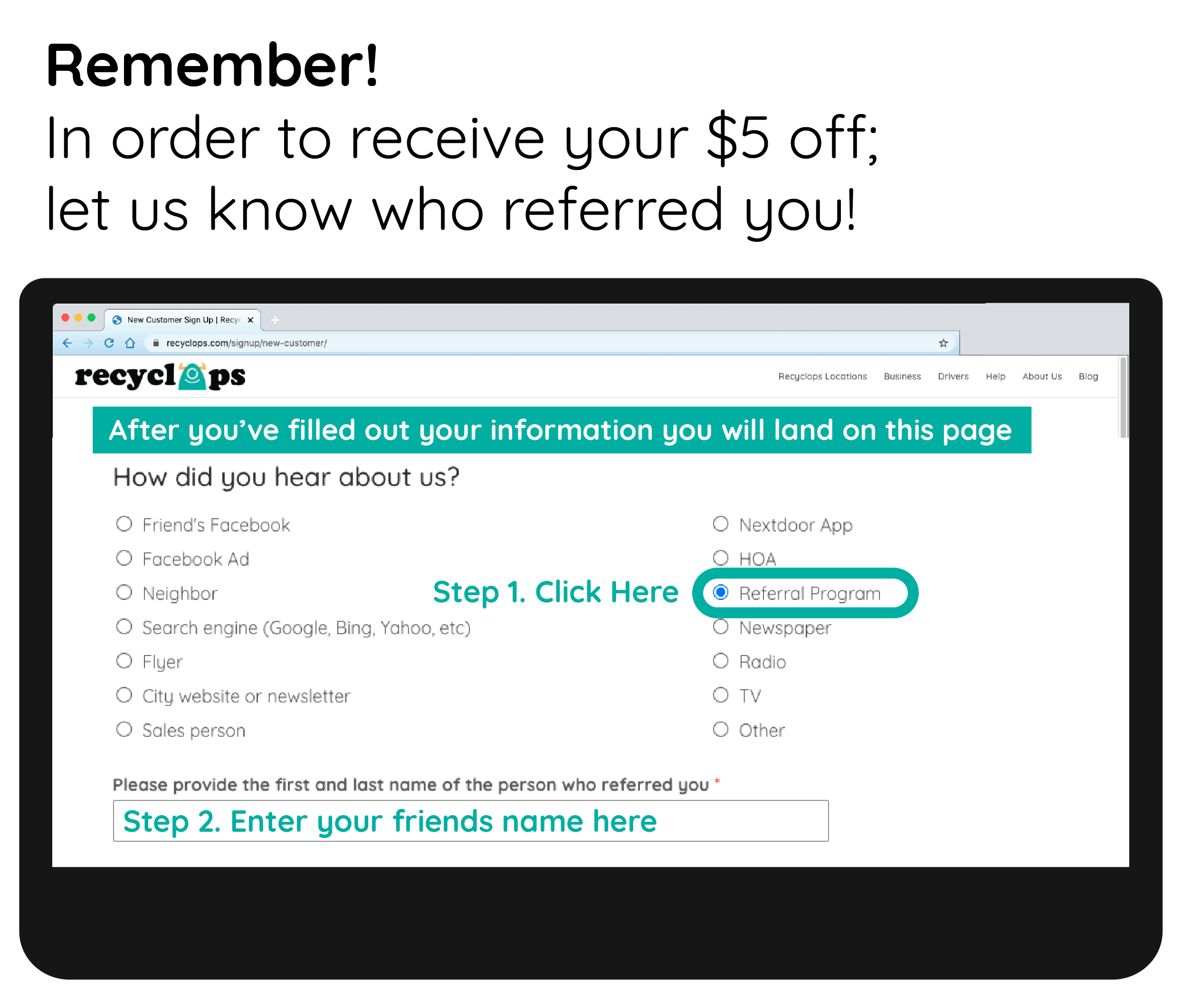 Step 3 – Provide payment information
Step 4 – That's it!
 When Will You Get Your $5.00 Off:
Users that get a new customer to sign up with an existing customers name in the "Referral Program" section will automatically be registered to participate and both will receive $5.00 off their next month of their recycling service.
If you have any questions please contact us and we would be happy to assist you. 
Share Your Story! 
Want to share your story? Just use the hashtag #WeRecycle and tag us on Facebook or Instagram to us why Recycling is important to you and your community! 
For more information check out our Instagram & Facebook and stay tuned for more information on future promotions and giveaways. 
If you have ANY questions, please don't hesitate to contact us!
*Restrictions apply: There can only be one account redeemed per person per household.  You will need to add payment information in order to finish your signup process. Offer valid once per existing customer. 
Does Recyclops not operate in your location yet? Request for us to launch where you are!