Help bring Recyclops to Orangeburg, South Carolina!
Recycling pickups at your fingertips. Get your monthly subscription, start recycling effortlessly. Once we have reached 100 signups in Orangeburg and surrounding areas, we will start our service.
Sign up now
Bag your recyclables
No need to sort! Just bag all your clean recyclables in our recyclops bags.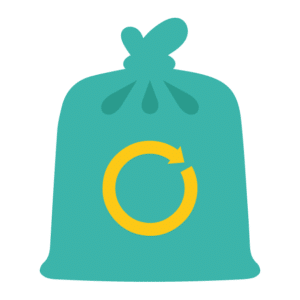 Place them on the curb
Put your bags out on your recycling pick-up day. We'll drive by and pick it up.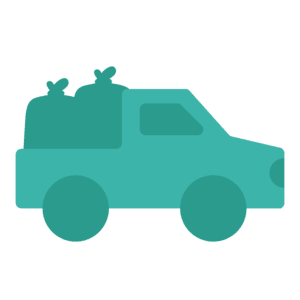 We'll do the rest
Once we pick up your recyclables we'll take care of getting them recycled.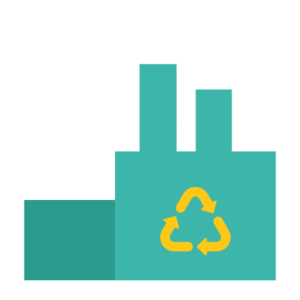 Want to start your recycling service sooner?
Tell your friends.
It only takes 100 signups for Recyclops to begin service.
Take 5 minutes of your time; talk to a neighbor, make a facebook post, or even text a friend. Let everyone know to signup so we can all start recycling sooner!
What you need to know to get started.
You will receive Recyclops bags to put your recycling into. Please use your own bags until you receive your roll of Recyclops bags.
Blue Recyclops bags are for plastic, cans, small cardboard & paper. (No need to sort these recyclables.)
Yellow Recyclops bags are for glass. (please remove all corks or lids)
Please wait until your glass bags are full to place them out on your curb.
Large cardboard does not need to be bagged.  Please flatten and place under your bags.
We will be unable to pick up recycling that isn't bagged (other than large flattened cardboard).
*Using these bags helps keep recycling clean and helps protect Recyclops drivers from injury.
We Accept
Aluminum & steel (tin) beverage & food cans

Cardboard & pasteboard

Glass containers (with glass subscription)

Magazines/catalogs, junk mail, paper, books

Newspapers

Plastic beverage, food, & soap containers (plastics #1, #2)
WHEN IN DOUBT THROW IT OUT
We Don't Accept
Aluminum Foil

Batteries

Bubble Wrap

Fluids or aerosols of any kind

Hazardous chemical containers (motor oil, pesticides, etc.)

Greasy boxes or paper (pizza boxes or used paper plates)

Other glass (windshields or glass panes)

Plastics #3 – #7

Plastic bags

Styrofoam and packaging "peanuts"

Tetra packs (juice box, almond milk, etc.)

Thin film plastics
Get your at-home recycling subscription.
Sign up for Recyclops and get hassle-free recycling pick ups.