America Recycles day 2020
Special Promotion: Sign up using promocode AMERICARECYCLOPS2020 to get your first month of recycling free.
Special promotion for America Recycles Day 2020
On this special day we want to spread the magic of recycling more than ever! That's why we've come up with a special campaign to impulse the spread of Recyclops joy.
Until Sunday, November 22nd, 2020, all new users who sign up for Recyclops using the promocode AMERICARECYCLOPS2020 will get their first month free!
Also, all users (both new and existing) can enter a raffle for a chance to win 6 months of free Recyclops!
How to get first month free for new users?
New users (users who have never had a recyclops subscription before) will need to sign up for Recycling using the promocode AMERICARECYCLOPS2020.
Step 1 – Sign up for Recyclops
Step 2 – Enter promocode AMERICARECYCLOPS2020 in promocode section (see image below)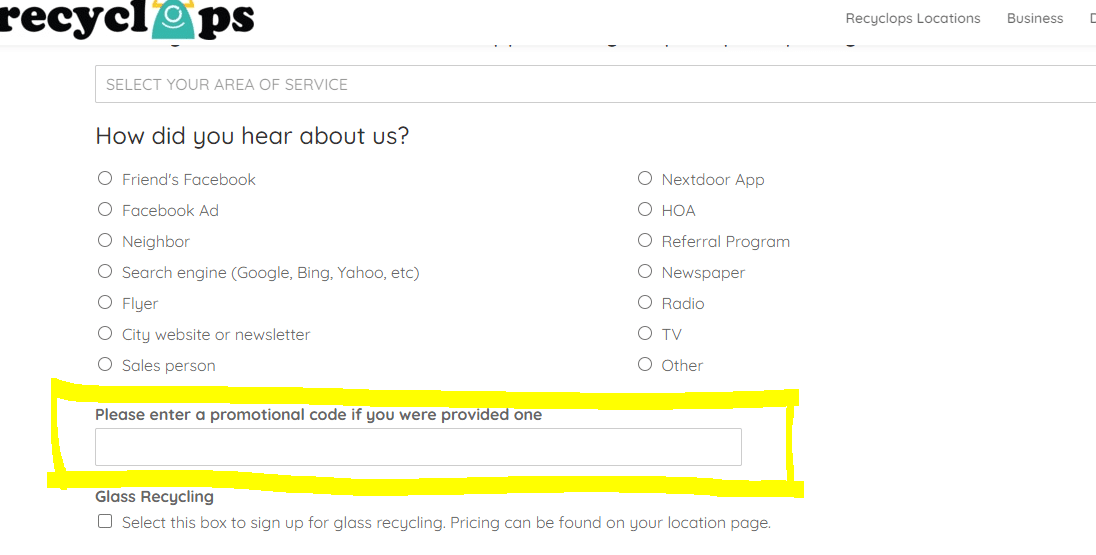 Step 4 – Provide payment information (we won't bill you until after your first free month is over)
Step 5 – That's it!
 How to join the raffle:
New users that sign up with the code americarecyclops2020 will automatically be registered to participate.
Existing users can participate by liking and sharing this post on Facebook, and then tagging 2 friends in the comments section.
We will name the winner on social media on Tuesday, November 24, 2020.
Making an Impact
We love this day because it recognizes the importance of recycling in America. We hope that with this campaign we are able to create a bigger impact in the penetration of marketing that exists in America. Even though we have made great efforts to close the gap of areas that do not have access to recycling there is still a long way to go! There are still over 50 million households in america that do not have access to recycling. That's why at Recyclops we work hard every day to accomplish our mission of providing access to recycling in every community in America.
*Restrictions apply: There can only be one account per person per household. You will need to add payment information in order to finish your signup process. You must sign up before November 22, 2020.
Does Recyclops not operate in your location yet? Request for us to launch where you are!