How the Rest of the World Recycles. 
Learn more about other recycling systems around the world. Read more below.
At Recyclops, we are committed to providing access to affordable, and convenient recycling throughout the United States. The recycling industry is still growing today as more communities choose to live sustainable lifestyles. Communities throughout the United States, however, aren't the only ones making a difference through recycling.
Many countries throughout the world are examples of real sustainability. These countries demonstrate that recycling and green practices can easily be a part of everyday life. This blog post will showcase the top five countries' recycling systems, as well as recycling infrastructure.
Learn more about these countries and the chosen recycling systems below:
Germany created and uses a recycling program called the Green Dot System. The Green Dot System uses six different bins classified according to a color system, which tells users what kind of waste they can put into each bin.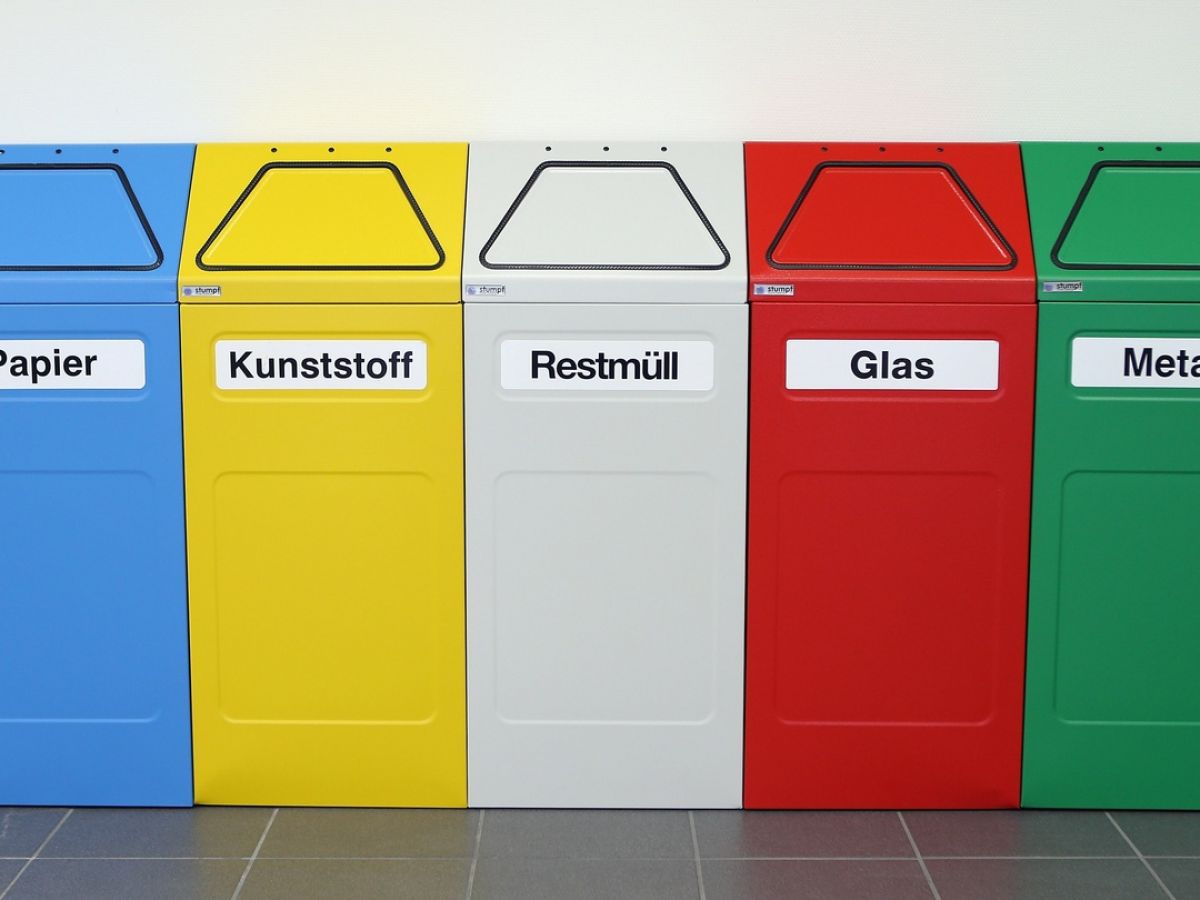 Yellow is for plastics, blue is for paper and cardboard, white is for clear glass, brown is for colored glass, green is for green glass and a sixth bin is for food waste and organic matter. Incorporating this bin system allows for the sorting process, to begin with, each citizen.
Additionally, if a citizen is found inserting waste or contaminants into the wrong bin may constitute an offense. This may lead to the imposition of an economic fine in Germany. Overall, Germany saw an average recycling rate of 56.1% in 2018.
Austria follows a similar recycling system to Germany, This being the case, Austria has implemented a producer responsibility model. This can be seen through its blanket ban on certain types of waste going to landfills.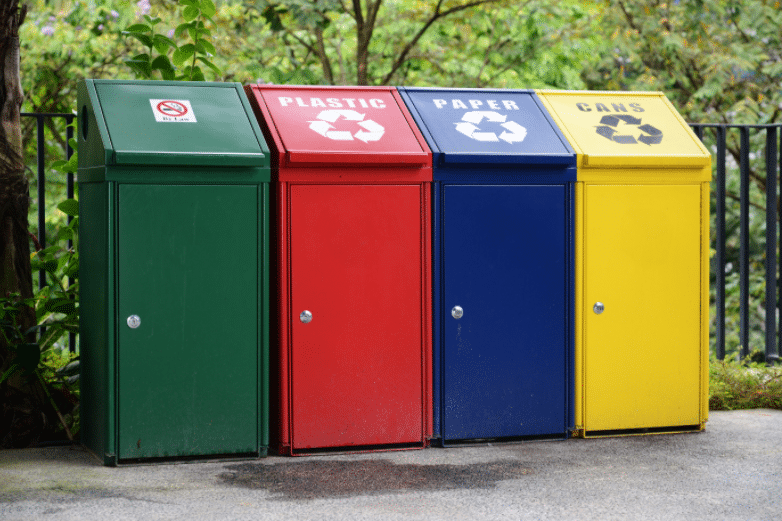 Additionally, recycling is paid through their municipal taxes. For the recycling sorting process, recycling is sorted into organic waste, waste paper, and plastic packaging. This helps to combat recycling contamination at its source. Overall, Austria saw an average recycling rate of 53.8% in 2018.
Switzerland is unique in offering multiple systems in which citizens can start recycling. Recycling can be done either through a door-to-door collection or via public facilities. Citizens can also check for collection spots using the Recycling-map online, adding to the convenience.
Regardless of which way citizens choose to recycle, one thing is clear, recycling is mandatory. Failure to do so can result in stiff fines, which could go up to CHF 300 (USD 330). Recycling is supervised by local authorities; usually, municipal workers in orange jackets have the right to check the garbage bags for any violation of rules.
Additionally, recycling through the door-to-door collection is usually charged for, in the sense that you have to pay for the official bags required by the government for waste disposal. Waste is only to be collected in bags that have a payment sticker attached.
The main recycling waste categories are as follows:
Compost/ organic substances
Paper and cardboard
PET bottles
Plastic material
Glass
Aluminum
Batteries
Electronic and electrical equipment
Textiles and shoes
Overall, Switzerland saw an average recycling rate of 49.7% in 2018.
South Korea follows a similar system to the United States. South Korea's waste management system is known as Jongnyangje. In South Korea, paper, glass, steel, fabrics, and plastics are recycled. Interestingly, recycling arrangements vary from place to place. However, recycling must always be separated into different types and compressed or flattened before disposal.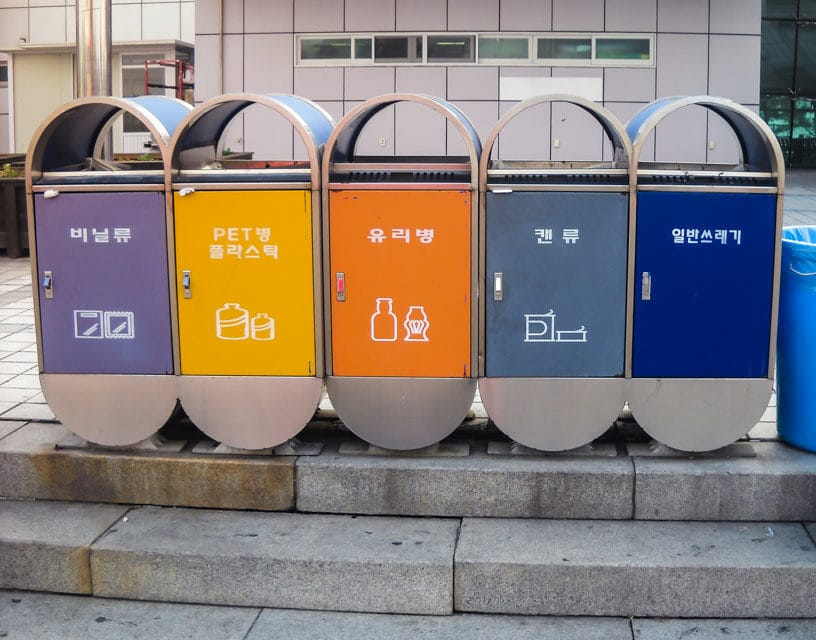 Recycling material is separated into four different categories of waste. These categories are:
Landfill waste
Organic waste
Recyclables
Large waste objects
Following this system is mandatory. If the system is not followed there are penalty charges for non-compliance, and also rewards for reporting non-compliance. This rewards positive recycling behavior while motivating negative behavior to be fixed. Overall, South Korea saw an average recycling rate of 53.7% in 2018.
In Wales, recycling systems are broken up by "councils". Five out of the 22 councils operate a "co-mingled method". The co-mingled method involves the council sorting recycling for residents.
Residents of the other 17 councils receive six containers and separate their waste themselves, for it to then be collected. This recycling system is known as the Pembrokeshire waste system. This system is similar to recycling in Germany or Austria.
Using both strategies, Welsh politicians are pushing for a 100% recycling rate by 2050. In 2018 however, Wales saw an average recycling rate of 52.2%.
According to the Environmental Protection Agency (EPA), Americans generate more than 267 million tons of solid waste every year. In 2017 however, only 94.2 million tons of that waste was either recycled or composted. That puts the US average recycling rate at 35%. Additionally, according to the EPA, only 8% of discarded plastics were recycled in 2017.
Largely, the issues that cause the recycling rate to be so low are quite simple. Compared to these other countries it has to do with a lack of education and recycling programs. Depending on your location throughout the US the materials that can be recycled change, creating confusion.
Many citizens around the United States do want to recycle but just cannot find a system that fits into their lifestyle. This is exactly what Recyclops is trying to create through our affordable, and convenient recycling pick-ups.
Start Recycling with Recyclops.
Our team at Recyclops makes it easy to recycle today straight from the convenience of your home. With our service, you know that your recyclables are going to a designated recycling facility and not a landfill. Learn more about where your recycling goes here. 
Depending on your location, recycling is as easy as putting all your materials in one or more bags (depending on how many you have) and putting them right on your doorstep or curbside. Your local Recyclops driver will be there to pick up your materials and ensure they arrive at the destination. And don't worry about making space for another bin, Recyclops bags or carts come with all our services and pickups come at your convenience. 
Download the Recyclops App Today!

We want to make recycling easy and simple, and that starts with recycling on your schedule. 
Check Out Our Other Posts.