Central Arizona Humane Society Partnership
Help contribute to the Central Arizona Humane Society in Payson, AZ
Learn More Below:
Recyclops Partners with the Humane Society of Central Arizona.
We are excited to announce a new partnership between Recyclops and the Humane Society of Central Arizona. One of the core values at Recyclops is community. Being a part of communities that we love means creating initiatives that better the lives of everyone who lives in them, including animals.
This partnership aims to do just that by allowing our customers to give back to the community and ensure that all animals are treated fairly. Visit our Payson, AZ page to sign up for recycling with Recyclops and start giving back to animals in need today.
What is the Humane Society of Central Arizona?
"Our mission is to provide shelter and compassionate care for domesticated animals who are lost, abandoned or homeless; to place animals into loving homes through adoption; to improve the lives of animals through education and example; to promote spay and neuter of companion animals; and to provide a shelter where animals who come into our care are nurtured in a loving space while healing from fear, physical or emotional trauma, mistreatment or loss of a caregiver."
– Humane Society of Central Arizona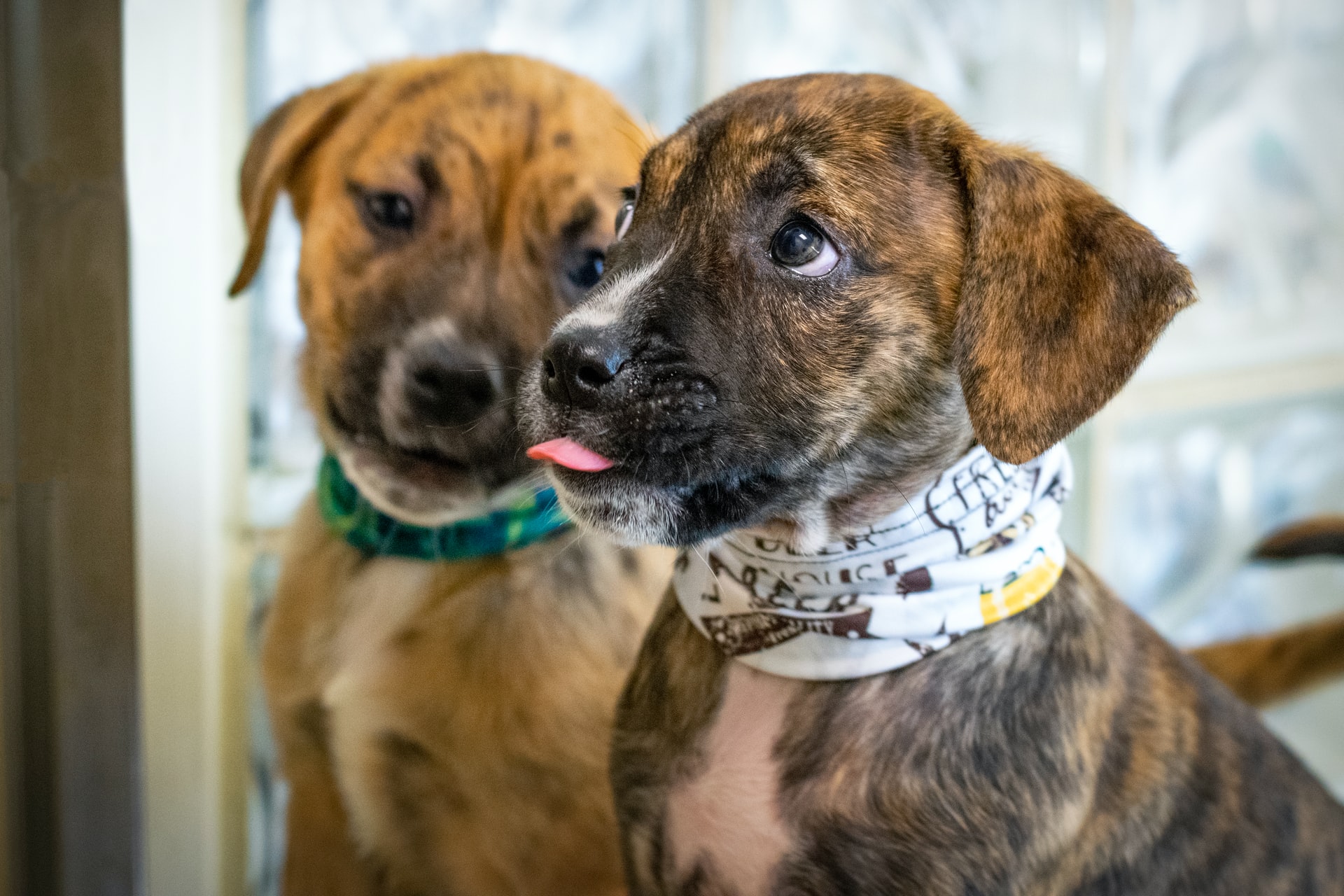 Located in Payson, Arizona the Humane Society of Central Arizona serves Gila County with a geographic area that includes the communities of Pine, Strawberry, Happy Jack, Whispering Pines, Fossil Creek, Rye, Gisela, Star Valley, Christopher Creek, Forest Lakes, and beyond. The Humane Society of Central Arizona (HSCAZ) also collaborates with animal rescue organizations throughout Arizona and beyond to bring animals together with lost families and to place domesticated animals in the best possible forever homes.
HSCAZ currently handles more than 1,200 animals per year. Each animal who comes to the HSCAZ is evaluated and when possible, healthy animals are held until adopted. Those animals with special needs that are determined to be treatable are cared for until an appropriate home is identified.
The Impact the Humane Society of Central Arizona Creates.
In 2019 the HSCAZ was able to do great things throughout Arizona. Some of the amazing positive impacts were as follows:
The Low-Cost Mobile Clinic serviced 87 pets with spays, neuters, and vaccines at little to no cost.
Took in 102 animals to our Humanitarian Hold Program that helps people in need when faced with emergencies or hardship.
Took in 1,202 animals that were either stray, lost, abandoned, sick or injured.
Reunited 389 pets with their owners.
Adopted 490 animals to new forever homes.
If you would like more information on the HSCAZ and how you can get involved, visit the HSCAZ website.
How Can You Get Involved?
We are so excited to offer all of our customers in Payson, AZ the opportunity to sign up with Recyclops for convenient doorstep recycling. We will be launching our services in Payson, AZ on April 15th, 2021.
The best part is that when signing up for our service Recyclops will donate $1 for every month of your subscription to the Humane Society of Central Arizona to continue their amazing work to help animals in need each month of your recycling subscription. Remember, you will be helping animals just like Dexter!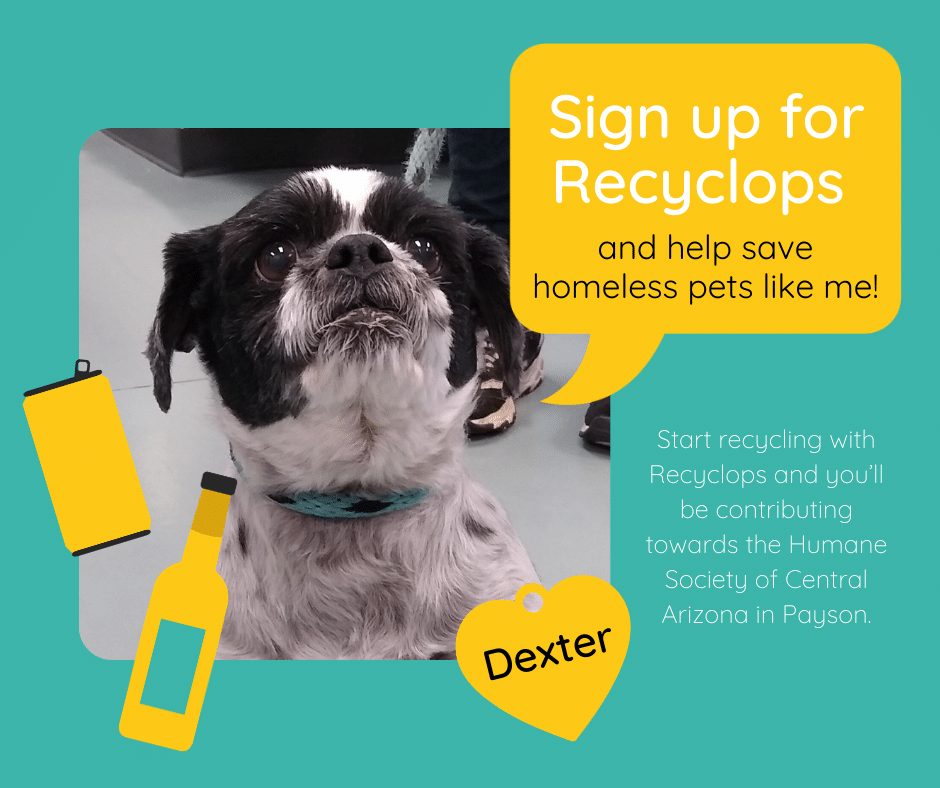 For more information on how you can sign up today and start living your life more sustainably while giving back to a good cause, visit our Payson, AZ page.
Start Recycling with Recyclops.
Our team at Recyclops makes it easy to recycle today straight from the convenience of your home. With our service, you know that your recyclables are going to a designated recycling facility and not a landfill. Learn more about where your recycling goes here. 
Depending on your location, recycling is as easy as putting all your materials in one or more bags (depending on how many you have) and putting them right on your doorstep or curbside. Your local Recyclops driver will be there to pick up your materials and ensure they arrive at the destination. And don't worry about making space for another bin, Recyclops bags or carts come with all our services and pickups come at your convenience. 
We want to make recycling easy and simple, and that starts with recycling on your schedule. 
Check Out Our Other Posts.  
Recyclops continues to expand its service offerings throughout the United States. Check out our locations as well as frequently asked questions for further information. 
Like what you see? Check out more posts on the Recyclops Blog. 
Share Your Story! 
Check out our Facebook or Instagram and tell us why Recycling is important to you and your community! 
If you have ANY questions, please don't hesitate to contact us!
Does Recyclops not operate in your location yet? Request for us to launch where you are!