How to Get Recyclops in Your City
At Recyclops, our mission is to provide access to affordable recycling to all, regardless of where people live. Find out how to get Recyclops in your city today. 
Learn More Below.
Recyclops continues to grow throughout the United States, promoting sustainable practices and allowing more communities than ever before access to sustainable recycling. Whether you live in California, Texas or somewhere in between Recyclops is here for all your recycling needs so you can continue to make a difference in your community. But what if you don't have Recyclops in your city? Or worse yet, no recycling at all? No need to worry. This article will help you understand how to get Recyclops in your city, and all the benefits that recycling in your community come with.
At Recyclops, our mission is to provide access to affordable recycling to all, regardless of where people live. We use technology to drive innovative solutions for sustainability, starting with recycling. Most importantly, we believe that recycling and sustainable options should be accessible to everyone.
With that goal in mind, Recyclops now operates in 15 states with even more to come in the rest of 2021. In the communities we serve we bring in our core values of:
Transparency
Customer happiness
Community
Environment first
Long term wellbeing
These are all values that Recyclops takes into account every single day. We want to bring out the best in our communities for those who recycle and live in them. Customers can choose to recycle several materials depending on their location. To see what you can and cannot recycle in your area, find your location here.
Additionally, depending on your location, you can recycle glass or even recycle on-demand for those surprise pile-ups of recycling. Learn more about how you can start recycling with Recyclops here.
The Benefits of Having Recyclops in Your City.
So why should you want Recyclops in your city and what are the benefits of recycling in general? From reducing the amount of waste entering landfills, creating employment opportunities, and conserving our environment's natural resources, the benefits of recycling with Recyclops are endless.
When you choose to recycle your plastic or other recyclable materials you ensure that those materials will be used again. Important materials like wood, paper, plastic, broken furniture, and glass are just some of the materials that can be recycled or else will just end up becoming waste, harming the environment.
To learn more about the benefits of recycling in your community, check out this blog post.
How You Can Get Recyclops in Your City.
It's easier than ever to start recycling with Recyclops in your city. All you have to do is sign up on our website here and fill out the form which can be seen below after clicking the "Location not listed button".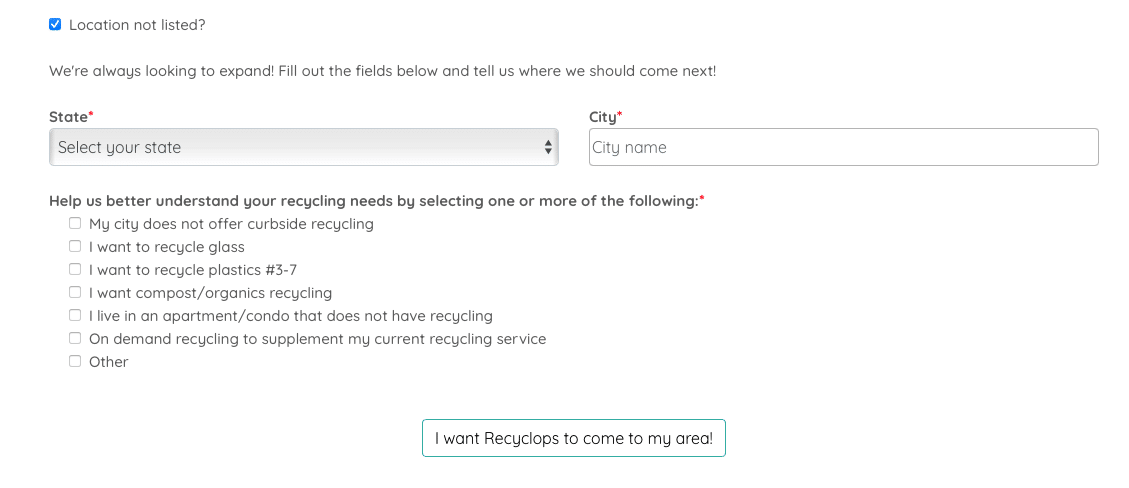 After filling out the form our team will receive your request and investigate how we can start operations in your area. Don't forget, if you have ideas on how we can make positive and sustainable changes in your community, don't hesitate to contact us and we would be happy to explore these ideas with you.
Start Recycling with Recyclops.
Our team at Recyclops makes it easy to recycle today straight from the convenience of your home. With our service, you know that your recyclables are going to a designated recycling facility and not a landfill. Learn more about where your recycling goes here. 
Depending on your location, recycling is as easy as putting all your materials in one or more bags (depending on how many you have) and putting them right on your doorstep or curbside. Your local Recyclops driver will be there to pick up your materials and ensure they arrive at the destination. And don't worry about making space for another bin, Recyclops bags or carts come with all our services and pickups come at your convenience. 
We want to make recycling easy and simple, and that starts with recycling on your schedule. 
Check Out Our Other Posts.  
Recyclops continues to expand its service offerings throughout the United States. Check out our locations as well as frequently asked questions for further information. 
Like what you see? Check out more posts on the Recyclops Blog. 
Share Your Story! 
Check out our Facebook or Instagram and tell us why Recycling is important to you and your community! 
If you have ANY questions, please don't hesitate to contact us!
Does Recyclops not operate in your location yet? Request for us to launch where you are!