Why the Aluminum Can Isn't So Bad
Learn more about the benefits of using aluminum cans on a daily basis to live more sustainably.
The aluminum can is something everyone across the world uses on a daily basis. Whether that's in the form of your favorite drink or product. Like many materials and products that can be recycled, it's hard to know how sustainable these types of packaging are, and the impact they can have on our environment.
Thankfully, the aluminum can is one of the most sustainable packaging materials used when compared to other widely used materials such as plastic and glass. Everything from the ease of recycling, to the value of the material, the aluminum can allows for the avoidance of massive amounts of waste each year and truly encapsulates a closed-loop system for recycling.
Below is a breakdown of the different ways that aluminum cans have an advantage in the packaging industry.
Recycling Ability & Frequency:
Compared to glass and conventional plastic containers (PET), aluminum cans not only have a higher ability to be recycled by consumers but in fact lead the industry for the amount of material recycled. Looking at the consumer recycling rates for plastic, glass, and aluminum, the clear leader is seen as aluminum leads with an average recycling rate of 46.1% compared to plastic and glass recycling rates of 26.7% and 39.6% respectively.
While those may seem like close percentages relative to one another, the difference in amounts of material is massive. The recycling rate is an indicator of how much aluminum can scrap material is recycled in the form of a percentage. Additionally, since being reported by the Aluminum Association in 1972, the recycling rate for aluminum scrap material has grown by an impressive 15.4% overall.
It was reported that in 2019, the aluminum can recycling industry recycled more than 42.7 billion cans for an industry recycling rate of 55.9%. Unfortunately, this was a decline from the 2018 average of 66.6 % but this change can be attributed to the change in production taking place in 2019 and a push to package more products using other types of material.
How Does This Impact the Consumer?
Looking at the consumer recycling rate there was also a decline when comparing the 2019 and 2018 years. 2018 saw an average recycling rate of 49.8% but dropped to 46.1%. This correlates with a change in the preferences of manufacturers and consumers by pushing to purchase more products packaged in other materials.
Aluminum packaging however only accounted for 3% of the weight of recycled material but represents nearly half of the economic value of recycled materials from a single-family home. On average consumers recycle aluminum cans the most compared to any other beverage container. Aluminum cans are recycled at a rate of 46.1% compared to glass and plastic bottles with consumer recycling rates of 39.6% and 20.7% respectively. These averages can change due to fluctuations in material availability and pricing.
This shows how easily consumers are able to recycle this type of aluminum material compared to other materials nationwide. Recyclops allows for people in communities the ability to recycle aluminum cans and other materials straight from the comfort of their own homes.
The Efficiency of Aluminum Recycling:
With many different products being recycled, the process of recycling usually doesn't allow for the materials to be produced back into their original forms. For aluminum cans, however, are unique because most of the time they are actually recycled back into their original form. In fact, aluminum cans contain more than three times the amount of recycled materials compared to glass or plastic bottles. This puts the average amount of recycled aluminum in new cans at about 73%.
Even from the energy perspective aluminum cans are the leader in energy efficiency for recycling. It just takes approximately 8% of the energy needed to produce new aluminum material to produce one coming from recycled materials. This allows for producers to be truly motivated to use recycled materials first, creating a solid push for this recycling process to grow sustainably. Another benefit is that there is no difference in where the aluminum material comes from for the process, either from consumer areas or industrial scrap will work fine for recycling processes.
The High Value of Aluminum Recycling:
The immense value that the aluminum recycling industry creates helps more recycling programs forward. Depending on the location, the primary revenue stream for private and municipal recycling programs is done through the re-selling of recycled materials due to the high value return it's possible to receive.
Compared to glass and plastic material, aluminum can fetch a price on average of $1,210 per ton which is astronomically higher than its competitors. Plastic (PET) fetches an average of $237 per ton which is much lower and even glass has a cost to take material on average of around -$21 per ton. This can be seen on a consumer side as many recycling companies have an extra fee for recycling glass, due to its hash ability to turn a profit through the collection.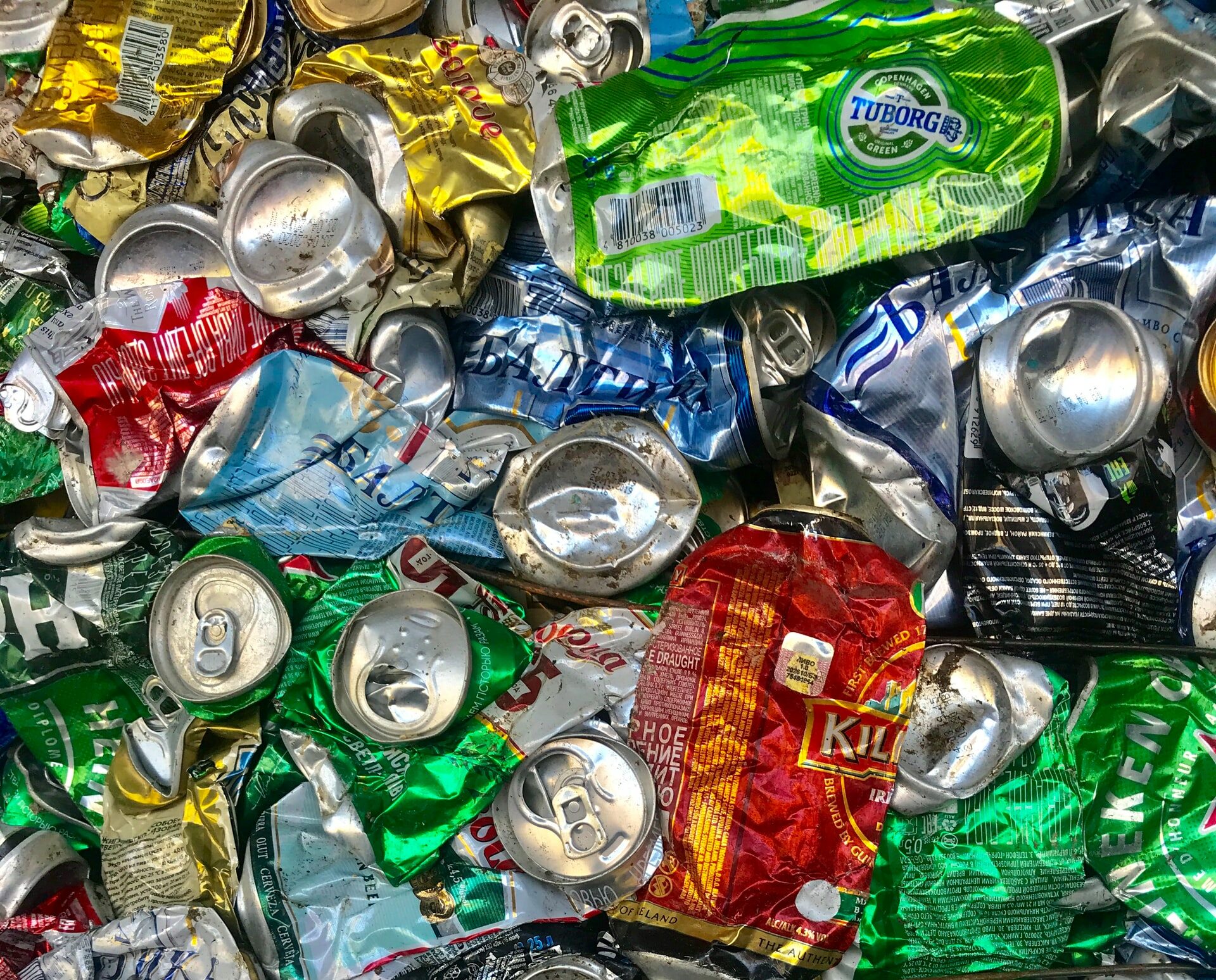 Utilizing a True Closed Loop System:
With all the positives of recycling the aluminum can for both producers and consumers, it's clear that it's a no-brainer for everyone to get on board and start recycling as much as they can. For example, the energy saved by recycling 100% of all produced aluminum cans is enough to power over 4.1 million homes for a full year.
Additionally, we could save on average $810 million per year for the economy by recycling all of our aluminum cans. Getting to this level would create a true 'closed loop' system, pushing for 100% of all aluminum cans to be recycled back into their original form.
How Close Are We to a True Closed Loop System?
Many organizations and groups such as Recyclops are working to educate individuals in our communities about the benefits of living a more sustainable lifestyle. Pushing to innovate new solutions on the grassroots level as well as the macro-level to make sustainability happen. This allows for people to understand not only the benefits of having a recycling community is one thing but once everyone can see the economic benefits it will be easy to create more effective recycling programs.
Aluminum recycling offers our best step forward into the creation of a true closed-loop which hopefully will allow for a trend of new technology to make other materials as attractive to recycle at a higher rate.
As more people around the country start to embrace recycling it's important to remember this for your own consumer habits. Don't be afraid to use an aluminum can products as long as you have the ability to recycle them correctly. If you don't have an effective way to recycle aluminum cans, check out Recyclops and see what our convenient recycling platform can do for you.
Start Recycling with Recyclops.
Our team at Recyclops makes it easy to recycle today straight from the convenience of your home. With our service, you know that your recyclables are going to a designated recycling facility and not a landfill. Learn more about where your recycling goes here. 
Depending on your location, recycling is as easy as putting all your materials in one or more bags (depending on how many you have) and putting them right on your doorstep or curbside. Your local Recyclops driver will be there to pick up your materials and ensure they arrive at the destination. And don't worry about making space for another bin, Recyclops bags or carts come with all our services and pickups come at your convenience. 
We want to make recycling easy and simple, and that starts with recycling on your schedule. 
Check Out Our Other Posts.